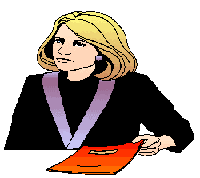 ---

---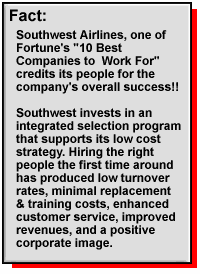 You have just received word from the CEO that your company has made this year's list of "Fortune's 100 Most Admired Companies!" You are elated, especially since just two years prior, they more commonly referred to your company's employment reputation as a "revolving door".
You enjoy the moment and reflect on how this happened. During the last decade it was a dismal time: turnover was high, profits were flat and customer service was poor. The company initiated some management training programs to try to turn the situation around. Nevertheless, you and the CEO know the company's success was primarily due to the standardized pre-employment and promotional testing programs you established.
Initially your responsibility was to fix the high turnover problem. New hires were leaving before coworkers started calling them by their first name. Managers were complaining that they were spending too much time training "your" hires. Newly promoted supervisors were failing left and right. While investigating these occurrences it suddenly became readily apparent - bad fits! You realized it was the system that was failing, not the people.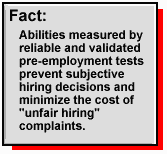 Your investigation revealed that a few new hires were over qualified and left for more challenging positions, while some were under qualified and became a drain on their supervisor's time. You also found that the new managers who were failing were over whelmed by their lack of basic managerial competencies, e.g., leadership, communication, adaptability.
Implementing Standardized Pre-Employment and Promotional Testing Programs
From a big picture perspective you began by identifying what the company was trying to achieve near term and in the future, along with the type of people needed to deliver those goals. You accomplished this through several meetings with key stakeholders and conducted a systematic review of each benchmark position or job family. This review (or job analysis) focused on identifying the activities performed on the job, competencies needed, and specific job knowledge areas associated with the position. This analysis provided the foundation for selecting and identifying the most appropriate assessment tools for each position.
When matching assessment tools to competencies needed to do the job, you quickly realized that programs varied depending on the position. What worked for selecting secretaries was not going to work for selecting maintenance workers, further the tools identified for promoting sales managers would not properly assess high potential executives. In the end, you customized each pre-employment/promotional program to evaluate each candidate systematically on the competency areas critical for success in the position.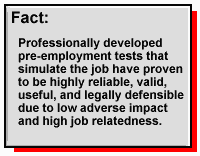 | | |
| --- | --- |
| Obvious Benefits of Pre-Employment/Promotional Testing | |
The most immediate and obvious benefit of the new Pre-Employment/Promotional Programs was a substantial reduction in turnover, particularly related to unsatisfactory performance. Additionally, the company also experienced a reduction in direct costs related to hiring, training, dismissal, replacement, retraining, and recruitment. As enough time passed, customer satisfaction levels improved significantly producing enhanced revenues and a company turnaround.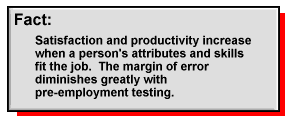 Hidden Benefits of Pre-Employment/Promotional Testing
What was most surprising to you were the hidden benefits realized because of your initiative. Human Resource's hiring cycle shortened by 10%, and overall liability costs decreased due to legally defensible selection decisions. Further, training could devote more time to the development of new skills rather than train and retrain individuals on the basic skills of a particular job. Managers reported higher satisfaction rates in the number and quality of potential candidates, reducing unnecessary time spent in endless recruiting. In addition, data revealed fewer issues related to job satisfaction, skill, and overall job performance of new hires. Finally, the company's image improved as word got out about its new pro-active approach to hiring and promoting from within. Internal customers were more satisfied due to a stable and better qualified workforce, while external customers reported being impressed by the increased quality of people and product -- leaving a very positive impression of the company!
You feel good about the role you played in helping your company achieve its new found success and reputation. Developing and carrying out Pre-Employment Selection and Promotional Programs not only helped you realize that a good system will maximize your opportunities for making sure the right people are hired for the right jobs, but ultimately provided a huge pay off to the company and its people! Not to mention the promotion you believe you are about to receive. . .
In fact you can almost hear your happy employees shouting your name acknowledging your wisdom. Wait a minute, those are not happy employees shouting your name . . . it is your assistant buzzing you over the intercom reminding you of your two o'clock meeting with the HR Action Committee. As you lift your head off the desk to respond, you realize that you dozed off, the victim of a heavy lunch, while reading the latest list of the Fortune 100.
6 Steps To Pre-Employment Testing

Determine where the greatest need exists
Conduct job analysis
Identify competencies
Choose selection tools
Pilot program
Implement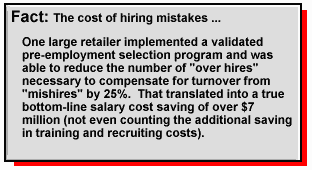 ---
Copyright © 1992-2020 ®